It is difficult to place his musical style in one category or genre, but one would say that there is definitely a strong electronica focus, using the sensibilities of jazz and blues. As a composer, he utilizes many mediums to produce the desired sound, but his main medium is the guitar. Suzuki started his formal guitar training when he was 18 years old in Tokyo, Japan under Jazz professional Seiji Okamura.

His main influence, however, is not Okamura. In fact, he was not a musician at all: he was his father. Suzuki's father, Fukazawa,Yasutada was an abstract painting artist. He recalls observing his father from a distance and realizing the limitless freedom offered through art. Fukazawa was an incredibly strong influence, and started his hunger for such freedom. He saw strong parallels between painting and music. Especially with his father's paintings, which, in sequence, seemed to represent the chronicling of time: a key factor in music.


With a strong calling to music, rudimentary training from Okamura, and BB. King whaling away in his head, he decided to focus on blues-rock as he settled in Los Angeles, with a newly formed band.
It was here, where Suzuki entered manhood, where he collaborated, through a tightly knit network of active and equally passionate musicians, with different musical styles as well as players. Through observation and experience, Suzuki formed his ideals and sensibilities with regards to musical composition. It also goes without saying, that it was at this time that he molded his abilities into that of a rock-steady professional.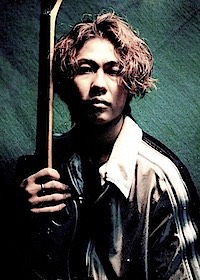 Having played and gigged with countless different artists and groups, Suzuki holds three particular groups in high regard in the context of his progression as an artist. The first of which started in 1993, was  K2project whose namesake was based on the fact that the two leading men's' first names started with K; Ken Suzuki and Kei Kawauchi. Suzuki credits Kawauchi as a great friend, influence, and fellow musician whose abilities surpassed his own at the time.

In 1995, the second group called Sun Goddess was lead by an eccentric Los Angeles performer Debbie Davidson. Davidson sought out a blues guitarist with composition skills. Suzuki seemed the perfect fit. 

In 1996,Suzuki formed the band Magnolia'sVox The sound of this band, like the previous two, is strongly influenced by blues-rock, but Suzuki's versatility and intent to diversify his playing made it difficult to categorize any of the three bands. A simple label would be "Fusion Rock". A general name that encompasses so many different flavors and feelings, that one might even say that he has created his own brand of music.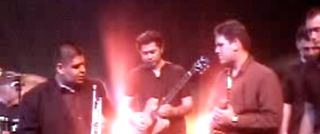 Suzuki now resides in Boston, Massachusetts where he graduated from the music education mecca of Berklee College of Music. It was there that Suzuki studied and majored in Film Scoring and Performance. He had long wanted to score films as a means to expand his musical horizons and exposure. He credits his experience at Berklee (especially his education in film scoring) as much as he does his gigging experience in terms of his repertoire as an artist.